As a college student, it may be difficult to balance your budget with your busy schedule and desire to eat healthfully. You need to make sure you fuel that beautiful brain of yours with a balance of carbohydrates, proteins, and fats. People often think that healthy eating means spending a lot of money, but that does not have to be the case! Check out some of these tips on how to eat nutritious foods while on a budget.
Opt for Eating In versus Eating Out
Cooking is a fantastic life skill to start building right now! Eating out (no matter fast food or sit-down restaurant) is often more expensive and these food are typically higher in salt, sugar, and fat. Below is a simple example of how food preparation at home can save you money.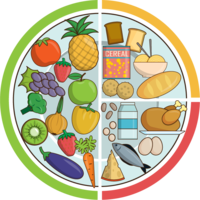 Meal Planning
Make some time in your schedule to think about what you would like to eat for the week. When thinking about how to build a balanced meal, a great place to start is using the MyPlate method as a template (see below).
Include sources of starch, protein, fruits, and vegetables in your grocery list to make your meals balanced. Below are some food ideas to start with.
You can use this Meal Planning Worksheet to get your thoughts on paper. Remember to create a food list before you start grocery shopping!
Become a Savvy Grocery Shopper
Certain grocery stores have cheaper produce prices while others have affordable bulk bins. Check-out this map of affordable grocery stores near campus and see what each store has to offer.
 
Here are a few other money saving tips to consider while grocery shopping:
Costco – Bulk buys.


Tip

: If you do not have a Costco membership, find a friend that does and shop together. You can split the bulk goods while getting the wholesale price.


Check out

: Costco @ 4801 Central Ave, Richmond, CA 94804
Utilize your smart phone – There are many smartphone Apps that can help you save money while shopping. Target's Cartwheel allows you to search for discounted food items ahead of time or while you are grocery shopping. You can use Ibotta and Checkout 51 to find grocery deals and get cash and/or gift cards back after submitting your receipt and showing your proof of purchase.


Beans, Beans, They're Good for your Heart (and Wallet) 
Not only do beans have different antioxidants, but they are high in fiber and protein. That means that they are heart healthy and are very satiating! More importantly, they are budget friendly in comparison to other animal-based protein options like beef, chicken, and pork.
The cheapest way to enjoy beans are buying dry beans and cooking them. This requires some time to soak and cook the beans, however you can make large batches and can store leftover beans in the freezer for up to 6 months. Learn more about how to cook beans from scratch.
Another bean alternative that is a little pricier but more convenient is purchasing canned beans. Look for low/no salt added options.


The Unsung Superstars of Produce: Frozen and Canned Veggies and Fruits
A lot of students may be confused about whether it is healthy to eat frozen or canned produce. Frozen and canned fruits and vegetables are a great convenient and budget-friendly way to include nutritious foods in your diet.
Researchers have found that there are no significant differences in nutritional makeup of frozen/canned versus fresh fruits and vegetables. Often time, fruits and vegetables that will be frozen are picked at peak ripeness. If you choose to go with canned produce, be mindful about added salt and sugar by opting for no/low salt and light syrup options when possible.
Become Familiar with Food Security Resources at UC Berkeley