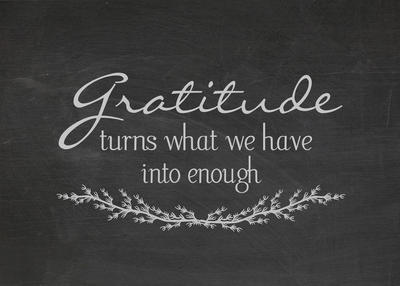 As campus take a little holiday hiatus this week from the busy Fall semester, I invite you to slow down and make some time for gratitude. 
But firstly, what is gratitude? Gratitude is being able to appreciate what gifts and benefits you presently have in life.
There are many benefits to practicing gratitude. Here are just a few facts about why gratitude is good shared by Greater Good Science Center at UC Berkeley:
Gratitude brings us happiness. It also boosts feelings of optimism, joy, pleasure, enthusiasm, and other positive emotions.
Gratitude reduces anxiety and depression and could be a helpful part of therapy.
Gratitude is good for our bodies and strengthens the immune system, lowers blood pressure, reduces symptoms of illness, and makes us less bothered by aches and pains. It also encourages us to exercise more and take better care of our health.
Grateful people get more hours of sleep each night, spend less time awake before falling asleep, and feel more refreshed upon awakening.
If you are interested in cultivating more gratitude in your life, try focusing on mealtimes. Remind yourself that a lot of unseen work happens before food can appear on your plate for dinner. Many different people have played a role in tilling the fields, planting seeds, harvesting the crop and transporting food so that we can purchase it to eat. If you are dining with others, remember to appreciate your relationships and time you are spending together. Feel free to share your gratitude out loud with family and friends or simply pause for a few silent moments before starting your meal.
Mindful eating is also a way to practice gratitude during mealtimes. It is a way to slow down the pace of our meals, pay attention to how our bodies respond to food, and gives us time to appreciate the eating process. Check out our Mindful Eating post if you would like to learn more about this topic!
Just like any other skill, gratitude is something you can practice and get better at doing. Learn more about gratitude and different ways to practice it.