Eat Well @ Work
Eat Well @ Work is your resource for healthy eating in the workplace with resources for packing a healthy lunch, nutritious options when eating out, mindful snacking, and planning healthy meetings and events.
With the average person spending about half of their waking hours at work, it is no surprise that workplace habits can have a major impact on health and wellbeing. In addition to affecting your overall health, research suggests that adopting healthy behaviors, such as eating a more nutritious diet, can help improve workplace productivity. Use our nutrition resources to help you navigate workplace challenges such as shortened lunch breaks, eating out, office parties, and candy jar temptations.
Recipes
Cook Well Berkeley - healthy recipes (including past recipes of the month), cooking videos, helpful tips, local food guides, and more. 
For more ideas on building a healthy lunchbox see the Brown Baggin' It Guide
Eating Out -- Healthy Options On and Around Campus
If you prefer to not bring your lunch from home, there are still plenty of healthy lunch options available on and around campus. Use the Healthy Meal Model as a guide, filling half your plate with vegetables and splitting the other half between whole grains and healthy proteins. Other tips for making healthy choices at restaurants:
Make water your beverage of choice

Choose whole grain options whenever possible (whole grain bread, brown rice, etc.)

Opt for low fat and light condiments and dressings - ask for them on the side

Order steamed, grilled, or broiled dishes instead of those that are fried or sauteed

Choose the "small" or "medium" portion. If servings are large, share dish with a friend or put half away in a to-go container
We are proud to partner with several Cal Dining's campus restaurants to feature Eat Well Berkeley menu items. Watch for additional campus restaurants to become a part of this program soon!
*Explore the Eat Well Berkeley Map to find our restaurant and retail partners offering healthy food options on and around campus!
Cal Dining Faculty/Staff Meal Plan
Cal Dining is proud to offer Faculty & Staff meal plans, which can be used in any of the 15 campus dining locations and two weekly campus produce stands. Points are automatically loaded to your Cal 1 Card [your campus ID card] in $50 increments and meal costs are discounted to meal plan participants.
Nutrition Information for Eateries Near Campus:
Cal Dining Residential Dining
Chain Restaurants
Planning Healthy Meetings & Events
Eat Well Berkeley Healthy Meetings and Events
UC Berkeley is committed to ensuring healthier food and beverage options are available at campus meetings and events. The UC Berkeley Healthy Meeting & Event Guide provides you with guidance on including healthier food choices (whether you are using catering services, shopping at local stores, or hosting a potluck), tips to include activity breaks to help make meetings more productive, and additional resources for event planners.
Snacking & Healthier Vending Options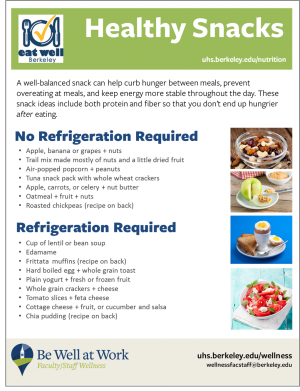 Tips for healthier snacking at work:
Keep healthy snacks on hand. The best way to ensure you eat healthy snacks during the day is to have them readily available. Pack transportable snacks like chopped vegetables with hummus, nuts, whole grain crackers, yogurt, or a piece of fruit the night before and keep them nearby so you have easy access to healthy choices when you get hungry.
Take snack breaks. Designate a break for having a snack instead of eating while working at your desk. Eating while trying to multitask often leads to "mindless" overeating as you are too busy to acknowledge when you have had enough and are satisfied. Additionally, grazing throughout the day can add extra unwanted calories as it's difficult to keep track of how much you've eaten.
Keep portions in check. Snacks are helpful for keeping energy up between meals but they should not be meals themselves. Try to keep snacks between 200-300 calories and utlize measuring cups to ensure you are getting an accurate portion.
Ideas from Colleagues
"I try to make it a point to bring lunch from home. I attempt to have at least one vegetable in my meal (i.e. steamed greens) and one fruit (i.e. orange, apple). To avoid making lunch the morning of work, I pack my lunch the night before. If I am cooking a large healthy meal, I'll try to portion it out for lunch for the next several work days." - M.V.P. SLA&EBO
"(I) keep nuts in desk drawer for those afternoon hunger pangs (and) a refillable bottle at my desk for water throughout the day." - M.M. IST
"To save money, I try not to eat out during the week. On the nights I cook, I like to make two meals at once. I'll choose one recipe that is not labor intensive, like soup or a one-pot meal, that I can put in the oven or simmer on the stove while I prep and cook another recipe. Then I have dinner and plenty of leftovers for the rest of the week. Having several meals ready in advance also keeps me from snacking right before a meal." - C.F. Financial Aid & Scholarships
"I have a 'treat basket', where instead of candy, I keep bags on nuts, dried fruit, light microwavable popcorn, a sometimes cuties (but they go fast)! This helps encourage those around me to also eat healthy, which keeps me less tempted to cheat." - K.M. Student Affairs Information Technologies
"I cook my own lunch at (my) work site every day with fresh food." - M.R. Housing & Dining
"I take full advantage of the salad bar in Crossroads Dining Commons...I bring my own low-fat dressing and have a piece of fruit for 'dessert' or save the fruit for later in the afternoon when I need a break and a snack." - C.T. RSSP
"For lunch, I bring a salad (broccoli, tomatoes, lettuces, etc) or home made vegetables dish...I walk for at least half an hour during my lunch break." - R.M. EH&S
"I always bring a piece of fruit or granola bar to any meeting I go too, just in case they serve pastries! Good way to avoid the temptation!" - B.R. IST
"The 1 day a week I allow myself to eat out, I eat half the lunch (saving) the other half for another meal. Food portions at outside eateries are usually large enough to feed two." - H.L. Capital Projects
"Planning is key. I have a big bag of quick cook oatmeal in my drawer at work to which I have added dried fruit and nuts...Each week, I make up a big batch of my favorite vinaigrette (and) I chop up a mixture of green and red cabbage and put it in a large Ziploc bag. Each morning before work, I put some of the dressing in the bottom of a plastic container, put in about 3 cups of cabbage mix, then add what I have on hand: carrots, red pepper, diced tomatoes, etc."
- S.C. Financial Aid & Scholarships