Campus Walking Events
Campus walking events provide employees with the opportunity to walk as a campus community, build movement into their workday and walk for a cause. Faculty and Staff are invited to participate in these campus walking events. 
UC Walks: Cal Walks at Work Day - June 15, 2018
Join your campus colleagues in celebrating Staff Appreciation Week with an energetic group walk and a fun experience being part of a Flash Mob! Group walks will depart at 12:10 from four campus locations to converge at the Campanile Esplanade and from off-campus locations. All UC faculty and staff are encouraged to commit to a 30-minute walk on this day.
Participants in the UC Walks: Cal Walks at Work day will have a chance to:
Pick-up a free UC Walks T-shirt (while supplies last).
Enjoy light refreshments
Participate in the Flash Mob at 12:40!
Win great prizes
NOTE: Must register and be present at the Celebration Event to win.
UC Walks June 2018
2018

Event Information





Friday, June 15, 2018
12:10-1pm
Location: Campanile

Group Walk Meeting Locations: 1914 Fountain, Hearst Mining Circle, Tang Center and West Gate

Depature Time: 12:10pm

Flash Mob

12:40pm

Don't miss your chance to join in the fun and participate in the Instant Recess Flash Mob. 

View past Instant Recess Flash Mobs:

Raffle Prize Information

All registered On Campus participants will be entered into the raffle drawing and you must be present at the UC Walks event to win. 

Campus Contact Information
Cal for the Cure
A walk to honor and in support of colleagues, loved ones, friends and others who have been touched by cancer. This walk has been offered in October.
Missed Cal for the Cure? See the photos here.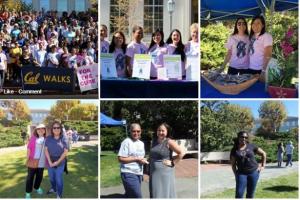 Cal for the Cure 2016
NEW Date! October 6, 2016
(previously Oct 12)

12:10-1pm
Campanile 
(near South Hall Road)

No registration required

Event Information

A campus walk led by the Be Well at Work Wellness Program Walking Group Leaders, and entertainment by the California Golden Overtones
Cancer awareness cards to share with colleagues
Light refreshments
Cal for the Cure giveaways and raffle
Each participant can receive up to 3 tickets to one of three Breast Cancer Awareness games: 

Women's Volleyball on Fri, Oct 7
Women's Volleyball on Sun, Oct 9
Women's Basketball, date TBD

Cal Football 4th Annual Breast Cancer Awareness Day

October 1, 2016 

Utah vs Cal

Event Information 

Ticket to Cal Football Game
T-shirt pick-up and pregame awareness walk (on your own) from Haas Pavilion to the Stadium
On field recognition for breast cancer survivors
Halftime scoreboard recognition
To purchase tickets, visit calbears.com/code and enter BCA2016
Cal for the Cure Photo Gallery