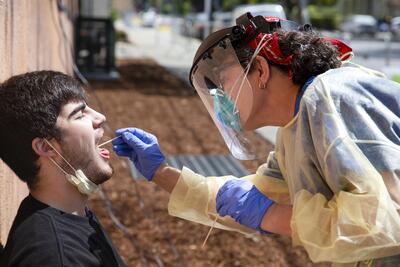 The Tang Center offers limited COVID-19 testing in collaboration with IGI

.
Please be aware that despite much effort and messaging to the contrary, testing capacity locally and nationally remains limited.  Prevention of infection and quarantine once exposed continue to be our main tools against this virus absent a vaccine.  A lot of work is happening to ramp up capacity here on campus for more widespread surveillance/screening, but in the meantime, limited testing is available at University Health Services, see below.  *Unless you are enrolled in the Safe Campus Study you must always CALL FIRST.
A couple of important points regarding PCR testing for COVID-19, regardless of where it is done: Testing is a useful tool in detecting cases, containing outbreaks, and informing the campus and community of current prevalence however it has several very important limitations:
There is no utility to re-testing ("test of cure") if you already tested positive within the past month: it won't tell you when you can leave isolation (this is determined by the public health department based on timeline and symptoms, and a negative would not change anything since viral shedding can be intermittent and decreases over time), and another positive result does not necessarily mean you are still infectious (RNA from "dead" virus can be detected for weeks in some people).
While we strive to test those who are contacts of confirmed cases, it is useless to test too soon (< 4 days after exposure) AND a negative test does not release you from the 14 day quarantine required by public health since you can become infectious later.
Note: If you have been tested outside of UHS and tested positive, please call our University Health Services CONFIDENTIAL line at (510) 643-8227 to inform our clinical teams, to help us support you and guide our campus. 
Please see our guidance on How to be safe while protesting during a pandemic.
Updated July 8, 2020