Counseling and Psychological Services (CAPS) can help connect you with an off campus provider, regardless of your insurance plan. 
Many students require ongoing support that is more specialized, intensive, or extensive than is available on campus. Ongoing long-term mental health care is not provided on campus but we can help you connect with a provider off campus. 
There are four recommended ways to connect with an off-campus counselor for those who need care in the community: 
A CAPS clinician can work with students to locate an off-campus provider

 that is maximally accessible, appropriate, and affordable with their health care plan. 
NEW! CAPS Referral Database - We continue to offer help with off-campus counseling referrals which we know can be a process.  If you would like to do your own search, you can now do so by searching by provider demographics, language, location, insurance, specialties and more.  This searchable database contains names of therapists and psychiatrists near the UC Berkeley campus who have expressed interest in working with UC Berkeley students.  At any time if you need help with referrals, you are welcome to request an appointment with a CAPS counselor for assistance.
Students may also locate in network providers of their choice

 by calling the customer service number on the back of their health insurance card; by

checking if their health insurance carrier's website may have a provider search feature;

 or SHIP students can go to the 

Anthem Blue Cross Find a Doctor website

 (t

o find therapists or psychiatrists, students should to select "Behavioral health " in "I'm looking for a" drop down menu). 
Psychology Today is another resource for locating behavioral health providers. 
Additional tips for connecting with off-campus mental health professionals: 
How to talk with an off-campus provider
View these Tang Tips (PDF) for talking with an off-campus provider: what to ask, what to look for and how to determine if a good fit.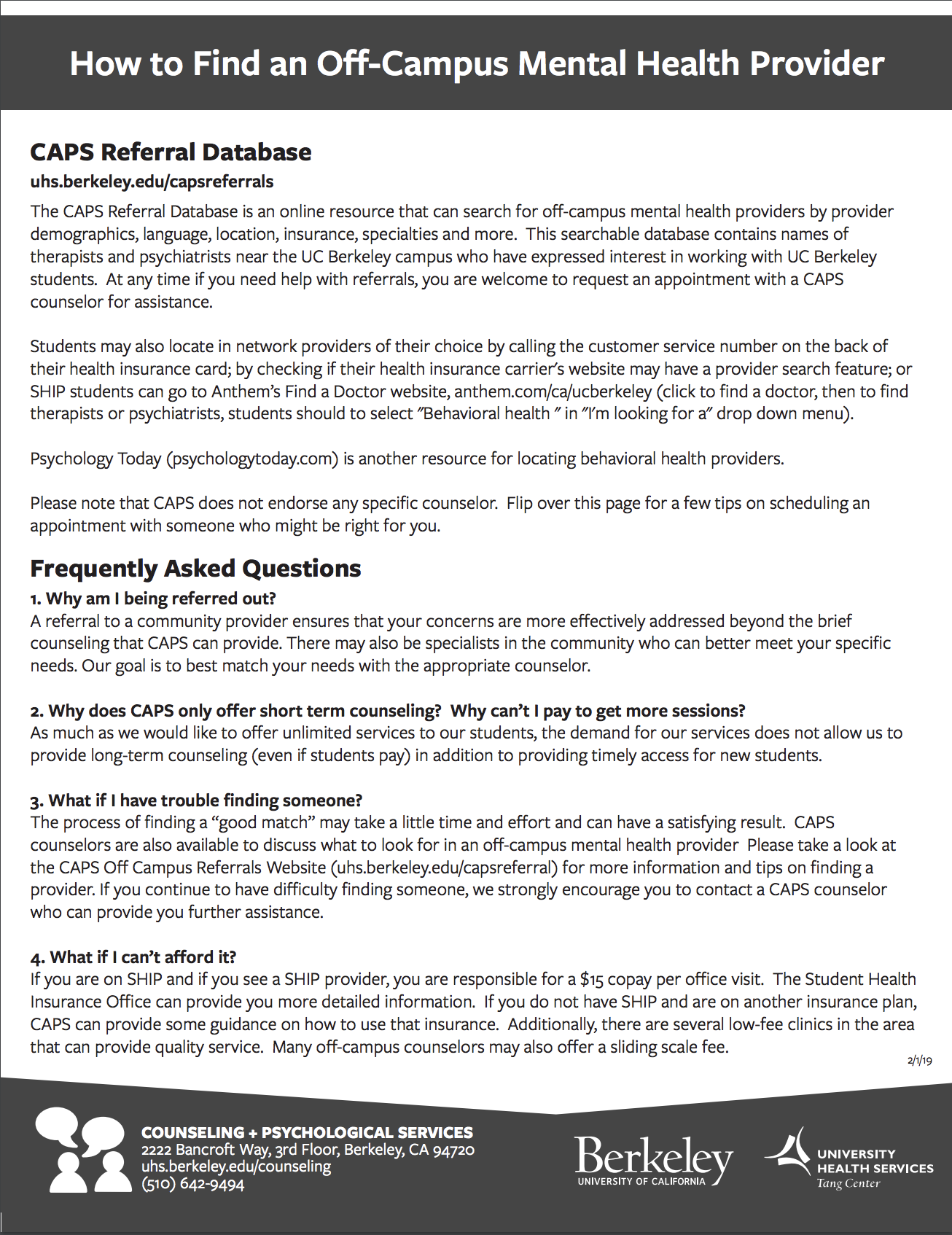 Topics
Outside referrals & SHIP