Faculty/Staff Community Garden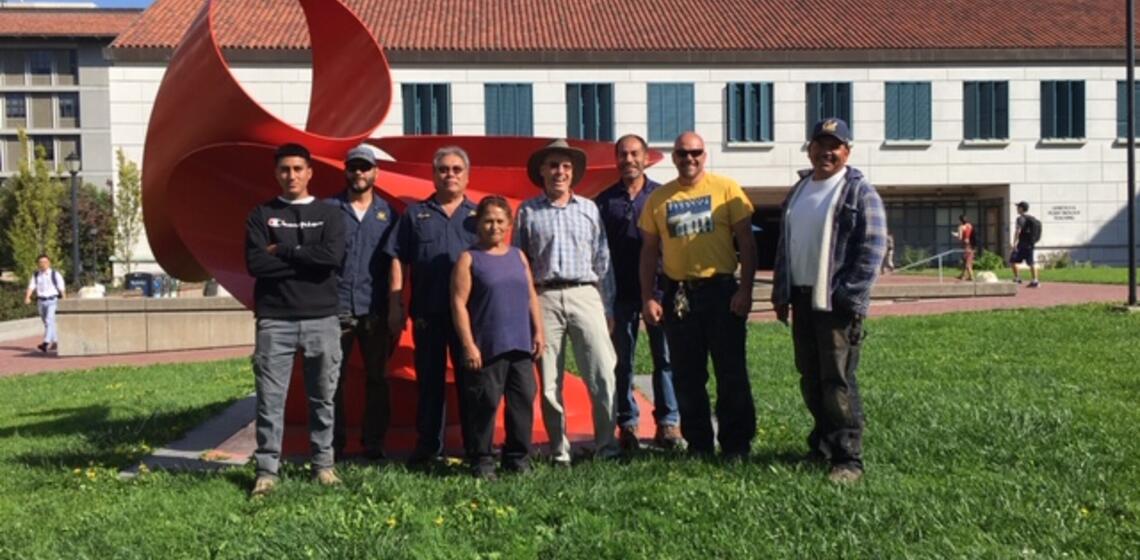 Thank you to UC Berkeley's landscape team
About the Garden
What We Planted
The staff garden includes herbs, vegetables, native Californian plants, as well as plants used by the Ohlone.

Where is the Garden?
The staff community garden is located outside of Li Ka Shing, Mulford, Morgan and Genetics & Plant Biology.
NEW Volunteer Schedule
For the fall 2022 semester, to accommodate more schedules, we have changed some dates and times from our previous schedule. Some days will also have special themes! See below:
Friday, September 9, 12-1pm
Theme: Moringa
This month, we will be planting moringa seedlings, in addition to our usual garden duties of weeding, pruning, harvesting, etc. Moringa is an important crop in India, Ethiopia, the Philippines and Sudan. All parts of the moringa tree are edible - for example, the leaves can be used fresh or dried into a powder. The trees are typically grown in tropical climates, but are drought tolerant, and due to many potential health benefits of eating this plant, we are attempting to grow the trees here in Berkeley. Dr. Susana Matias is preparing to launch a study on moringa and will be present on September 9 to share a little more information about this fascinating plant. Additionally, we will be adding compost to improve the condition of the soil. We hope you can join us!
Thursday, October 6, 10-11am
Friday, November 4, 12-1pm
RAIN DATE: Friday, December 2, 12-1pm (rescheduled from Dec 1)
The calendar system has changed. You can add the Staff Garden Volunteer calendar to your Google calendar here. The old bCal events will be deleted as we transition to this new system.
Edible Herbs
The garden includes rosemary, parsley, basil, oregano, and thyme. Using herbs in cooking is a great way to add a boost of flavor and beneficial polyphenols!
Featured Cook Well Berkeley recipes
Past Event: Be Well in the Garden
Tue, June 14, 2022
11:30am-1:30pm
Staff Garden
Gather in the staff garden with your colleagues to explore our community garden. Take a grounding stretch break, watch a simple cooking demo using ingredients from the garden (and taste the recipe!), and learn about ergonomics in the context of gardening. Registration is required to be entered into the raffle, but feel free to drop in without registering. Show up anytime within the 11:30am-1:30pm time frame, but our programming will take place between 12-1pm. Help us go green by bringing your own water bottle.
Visit the tables of our wonderful partners:
Topics