What is the one thing you miss most about your hometown and how do you deal with homesickness?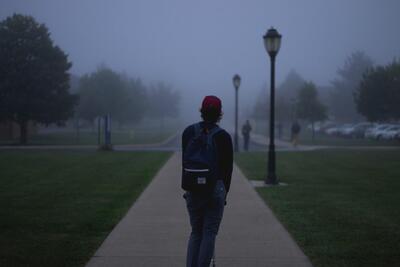 ---
Hi everyone! The thing that I miss the most about my hometown is one, obviously the fam ;), but also Lake Merritt! I was born and raised in Oakland, CA. Growing up in Oakland isn't what everyone thinks it to be. I've had numerous people come up to me asking about my childhood, curious as to what it was like gro
wing up in such a "dangerous" city. In fact, it's far from that! Yes, Oakland may not be the safest city in the U.S., but it sure is one of the most eclectic ones! You'd be surprised by the amount of diversity crawling around in the city. It's shown through the wide selection of cuisines that you can choose from. Anywhere from Korean BBQ to Ethiopian. But going back to my point, Lake Merritt! The 3.2 miles stretch of water that leaves me in awe every single time I decide to go on a run. I miss the geese, the smelly, green water, and the colorful Fairyland sign that is nested in one of the lake's corners. If you have some time, definitely go check this gem out! 
Even though I live only 20 minutes away from home, I do feel homesick from time to time. Fortunately, for me, I'm literally only a car ride away! However, I know it's not like this for many other students. Some ways you can deal with homesickness are: 
Call/Skype your family! School is busy, but try to take 10-15 minutes out of your day to chat with your family. Tell them about your day and ask them about theirs. 

Start Writing and Expressing your feelings. Whether you're a shy or outgoing person, there's a way for you to cope with homesickness. Talk out your feelings with a friend or start writing your feelings out. 

Do something that you like to do/you're good at. Join a club, organization, or a sports team at school. Doing something fun with other people that share a similar interest can help you get your mind off of things. 
Good luck! :) 
Angela
Hi there!
The thing that I miss most about living in my hometown is being able to see my parents, sister, extended family (grandparents/cousins/aunts and uncles), best friends, and significant other all in the same day if I wanted! To deal with this homesickness I make sure to communicate with everyone back home that I miss; every time I call or FaceTime someone from home, it makes me feel better! I also like planning trips back home in advance because it gives me something to look forward to!
Best,
Simran 
One thing I miss most is my family's love and support. I miss sleepwalking down the stairs to the scent of my mother's breakfast, and the words of encouragement my father would give me when I have a bad day. In college, there can certainly be the feeling that the only person taking care of you is... you. The personal responsibility can be freeing, but I do miss the familiar guidance my family has given me throughout my life. When I came to Cal, I realized that I took a lot of my parent's hard work and sacrifice for granted.
I am glad you asked the former question first. I think it's good to identify this, since it can be a good starting point to answering your second question. If you can identify one thing you miss most about your hometown, you can try to seek that same thing here! For example, I really miss my little brother and the silly conversations we have. So one thing that I could do (which I have yet to do, thanks for reminding me) is join a club like OASES or SAGE that goes out to mentor elementary school students. Or if I miss the sense of inclusion, I could plug myself into a plethora of communities and organizations that are present at Cal.
Homesickness hit me hard when I was taking a summer class after freshman year. I realized that I felt homesick the most when I felt lonely. I would go to lecture, head to a library to study, and head back home to cook dinner or buy to-go food. It was like that on repeat, and I quickly felt exhausted. That summer really gave me motivation to put myself out there, grab meals with friends, and create study groups. This perspective was really important for dealing with homesickness. You are only here for [a few] years. Before you know it, college will be behind you. So you should try to build a new sense of "home" here, and really appreciate this very unique time period.
And as always, touching home base by facetiming or calling goes a long way. If financial conditions allow, going back home for a few days really helps recharge as well! But it is important to know that the feeling of homesickness is universal and completely natural; I think part of the beauty of college is the facilitation for students to mature and learn to grow independent. 
Best, David