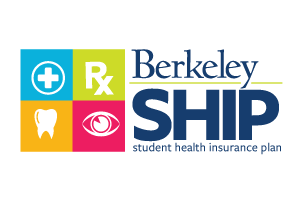 Student Health Insurance Plan (SHIP) Information and Important Dates for Fall 2021
At University Health Services (UHS), our goal is to assist students with any health care needs that they may experience while at Berkeley.  We provide comprehensive medical, mental health, insurance and health promotion services to all Berkeley students. The Tang Center is conveniently located on campus with experts in student health and wellness, our clinic is open 7 days a week with 24/7 after-hours assistance.
All students can use services at the Tang Center, regardless of their insurance plan.

All students pay $15 for a office visit for Primary Care and $35 for Urgent Care visits.

For Students with SHIP: Most other fees are covered at 90%.

For students without SHIP: Since the Tang Center doesn't accept or bill outside insurance, your students pay the full amount for services and can submit for reimbursement with your insurance company.

All students have access to short-term Counseling at the Tang Center at no charge.
We want to ensure that our students are covered no matter where they are. Our Student Health Insurance Plan (SHIP) offers a national PPO plan and international coverage all year round so your student is covered in Berkeley, when they travel, and wherever home may be.
Benefits
for 2021-22 Plan Year
Berkeley SHIP offers comprehensive major medical, mental health, pharmacy, dental and vision coverage, including:
90% coverage for in-network services

No charge for counseling at the Tang Center, $15 mental health visits outside of the Tang Center

Free generic prescriptions and reduced copays at the Tang Pharmacy

$10 copays for eye exams, annual frame and lens allowance

PPO plan with coverage throughout the US and International

24/7 telemedicine visits and advice nurse line

Low out of pocket costs and no deductibles at the Tang Center
All UC Berkeley students are required to have insurance that meets the UC criteria.  All Students are automatically enrolled in Berkeley SHIP to meet this mandate. See details on the plan and pricing. Financial aid covers SHIP premiums for many students. Please check with Financial Aid to see if your student is eligible.
Insurance Waiver Information
If you have comparable insurance that meets the waiver criteria and would like to waive SHIP for Fall 2021, all waiver applications must be received by July 15, 2021. All waivers received between July 16, 2021 and August 15, 2021, will be subject to a late fee of $75. Absolutely no waiver applications will be accepted after the final deadline. A new waiver application must be submitted for each Fall semester and they do not roll-over from previous semesters. Successful waivers are subject to audit and reversal at any point in the year.  The  Fall 2021 waiver application is availabe here (opens May 3). 
Please note, if a student would like their parents or supporters to be able to speak with us regarding their health care, including insurance, the student must first complete a Authorization for Release of Health Information Form.
See details on the SHIP plan and pricing. Please contact the Student Health Insurance Plan office with any questions at ship@berkeley.edu or (510) 642-5700.