Water Cooler Conversion Options
For questions or assistance, please contact:
Be Well at Work Wellness Program for Faculty/Staff
(510) 643-4646 or wellnessfacstaff@berkeley.edu
Bottleless Water Coolers
Bottleless water coolers may be a good choice if your department already has a water cooler with the 5-gallon water bottles. This option is a filtration unit that delivers cold and hot water and is plumbed directly to a tap water line. The University maintains a Strategic Sourcing contract with Arrowhead for the bottleless cooler option, as well as the cooler with the bottle option.
The benefits include:
Provides hot and cold, filtered tap water

Arrowhead will plumb the Filtration Unit into the tap water line at no installation cost, assuming there is an accessible source of tap water (within 25 feet of an existing sink).

Arrowhead Strategic Sourcing contract for cost savings

Monthly cost includes all maintenance and filter replacement

Saves money, energy, labor time, and greenhouse gas emissions. No need to transport the water bottles hundreds of miles

Prevents potential injuries from lifting 5-gallon water bottles (47 pounds) each time one needs replacing and saves valuable floor and storage space.

Uses less energy than bottled coolers

Several size options available, including a countertop model – See Arrowhead Filtration Units
Price Comparison (Estimated)
| | | |
| --- | --- | --- |
| Cooler Type | Per Jug | Monthly Cost |
| 5 Gallon Bottle Cooler | | $5 |
| | $4.99 | $29.95 |
| | $4.99 | $104.80 |
| Bottleless Cooler, hot and cold water with activated carbon filtration | -- | $26.99 |
For free estimate on converting to a bottle-less system, contact
Kitchen and Kitchen Sinks
Many departments have a kitchen area for use by faculty and staff.  Some options to encourage users to use the kitchen sink for tap water include:
If there is a refrigerator, provide water pitchers, filtered or not filtered or both, to refill from the tap and keep in the refrigerator for those that prefer chilled water.

Provide a hot water kettle for those that want to heat water for tea or soups, etc.

Consider installing an Insta-Hot Water Dispenser to the sink.  The initial costs can include installation of a dedicated electrical outlet and the Insta-hot unit and may run around $4000 total.

See above on Arrowhead Filtration Units – if you are considering this option, these typically have both hot and cold water.
Water Fountain Retrofit with a Bottle Filler
Some types of fountains can be "retrofitted" with a bottle filler to make it easier to fill a water container or a water pitcher.
Criteria for fountains to be retrofitted with a bottle filler include:
The fountain must currently be ADA compliant.

The fountain must be a style with a solid surface to mount the bottle filler.
Bottleless Meetings and Events
The UCB Healthy Meeting & Event Guide recommends that if food and beverages are going to be provided to include vegetables and/or fruit choices and water at a minimum.  Water is preferably tap water served in bulk rather than single use bottles. (Please note if single use bottles are the only option, be sure to set up a recycle station).
Here are some options for serving water in bulk.  Create a culture that encourages participants to bring their own water container to meetings and events (as appropriate based on the type of event).
If you are using a caterer, ask the caterer to provide water in bulk.
See the Eat Well Berkeley Caterers for caterers with healthy food and beverage options labeled on their menus.
| | | | |
| --- | --- | --- | --- |
| | | | |
| Bring your own Water Bottle | Bring your own Mug | 60-ounce Water Pitchers | 3-gallon Water Containers |
Water Bottle Refill Stations
Many water fountains on campus have been replaced with Water Bottle Refill Stations with support from the Healthy Beverage Initiative, TGIF program (The Green Initiative Fund) and campus departments.  If you are considering this option, please know that there are specific Design Guidelines that must be met in order to replace a fountain with a refill station and maintain compliance with ADA and the building code for water fountains. The cost of installing a refill station is typically about $8,000.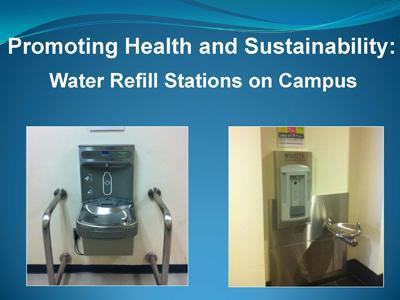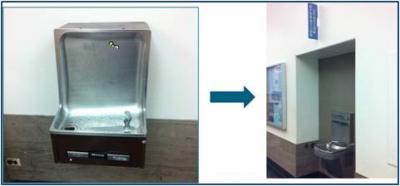 Dwinelle Hall: a single fountain replaced with the Elkay EZH2O combination unit, in a niche.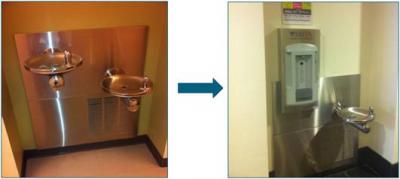 Stanley Hall: Hi fountain replaced with the Haws/Brita Refill Station, keeping the low fountain for ADA compliance, both in a niche.
Please note: when fountains or refill stations are in the hallway, rails are required.